---
---
Your Mobile Office in a Single Sleeve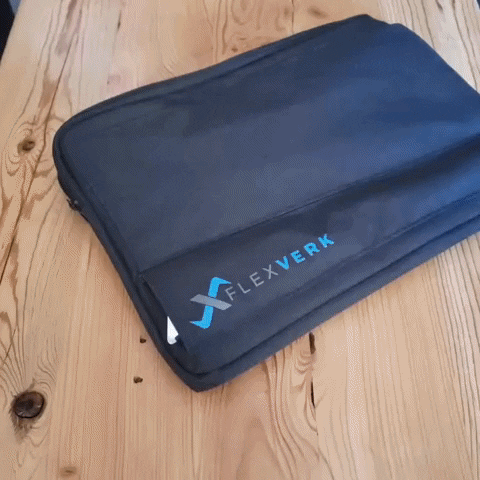 Combine the convenience of the world's lightest laptop stand with the protection of the soft-lined and padded Travlr Laptop Sleeve that includes a custom fit storage pocket for your Flexverk Laptop Stand.
Whether you're carrying your laptop by itself or in a bag, the soft-lined interior and padded exterior of the Travlr Laptop Sleeve provides protection for your most valuable work tool including a custom-fit pouch for the Flexverk Laptop Stand.
The Flexverk Laptop Stand is the world's lightest and most portable laptop stand. Designed to improve the ergonomics of laptop work, this foldable and super light laptop stand provides easier typing and better viewing. Stores neatly in the Travlr Laptop Sleeve and sets up in seconds so you can enjoy less wrist pain and neck strain whenever you need to get work done.
 Travlr Laptop Sleeve (Regular & Large)
Custom fit-pouch for the Flexverk Laptop Stand
Soft-lined interior and padded exterior with single-zipper main laptop sleeve
Neutral gray color
Regular
Fits most 12" - 14" laptops

MacBook Pro 13"
Macbook Air
Dell XPS 13"
HP Elitebook 14"
Lenovo Thinkpad 14"

Dimensions: 14" x 10" x 1" (When Empty)
Weight: 7 oz
Large
Fits most 14" - 16" Laptops

MacBook Pro 16"
Dell XPS 15
HP Elitebook 15.6"
Lenovo Thinkpad 15.6"

Dimensions: 16" x 11" x 1" (When Empty)

Weight: 9 oz
Flexverk Laptop Stand (Pearl White, Silver, Blue)
Folds flat and nests perfectly in the Travlr Laptop Sleeve
The world's most portable laptop stand at 2.5oz
Fits up to 16" laptops
Sets up and breaks down in seconds with a single hand

High-grip silicone feet provides stability for even the heaviest typing
Added space under the laptop aides in cooling similar to laptop fan stand
Slight angle positions your laptop keyboard to simulate a desktop keyboard
Dimensions when folded flat: 12 1/2" x 2" x 5/8"
---